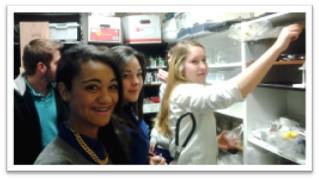 PLTW BIOMEDICAL SCIENCE
Visit A Taste of Biomedical Science to learn about PLTW's innovative course design, APB Approach, course content, and focus on career learning and transportable skills. This site can be shared with current and/or prospective students, parents, teachers, and administrators.

Corrales International School and PLTW have partnered to engage more students in engineering and technology fields that are critical to U.S. competitiveness in a global economy.
PLTW (Project Lead the Way) to offer a rigorous world-class curriculum entitled Gateway to Technology (GTT). PLTW curriculum allows students to apply what they are learning in math and science class to real-life engineering and technology projects.

PLTW prides itself on high-quality professional development of its teachers and an engaged network of business, community and university partners to give students the fullest experience. A National Business Roundtable report states that to remain competitive in the global economy, America needs to graduate 400,000 science, technology, engineering, and mathematics four-year degrees annually, yet we are currently graduating only 265,000. PLTW, a non-profit organization, is providing students with a foundation and proven path to college and career success in these areas.

The primary purposes of the GTT national recognition program are to recognize schools that have successfully demonstrated a commitment to the quality national standards of the GTT program. Corrales International School will offer the PLTW program in grades 6th through 8th.  This school year, students will experience two courses, Design and Modeling; and Automation and Robotics. The courses will be taught by nationally certified PLTW teacher, Richard Johnson. Corrales International School is committed to adding the Bio-Medical course for PLTW students in 9th grade in the 2014-15 school year.

Students benefit from PLTW's innovative, project-based curriculum that encourages creativity, problem solving, and critical thinking. We look forward to many years of working together to prepare Corrales International School students to become the most innovative and productive in the world.

To introduce the CIS's Biomedical Science programs, students school-wide will be walking into a crime scene, where 9th grades students will attempt to solve the case by the end of the year, like a drawn-out episode of CSI: Los Angeles. This is a situation that draws all students into the project without them knowing what is happening. One moment they're engaged in a piece of investigation, and the next they're learning some fundamental aspects of Biology. We are in year two of the four year foundational courses of Project Lead the Way's Biomedical Science Program. They study the top four diseases faced by Americans; Diabetes, heart disease, sickle cell anemia and infection.

This year, alongside of PLTW, Corrales International School has teamed up with Running Start for Careers and CNMto provide Dual-Credit programs that enable our high school students to get a head start in career choices by studying and working closely with local industry partners, like Presbyterian Health Care.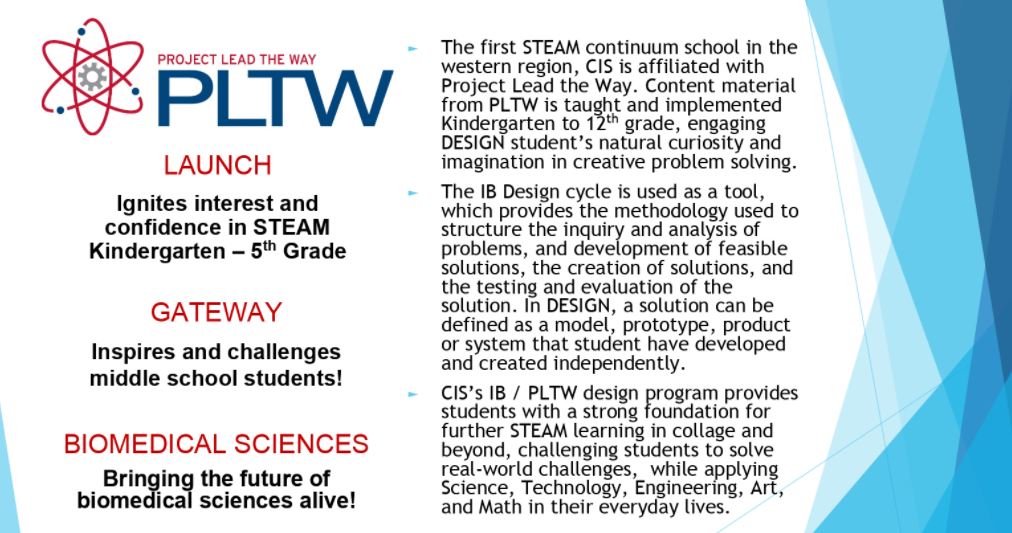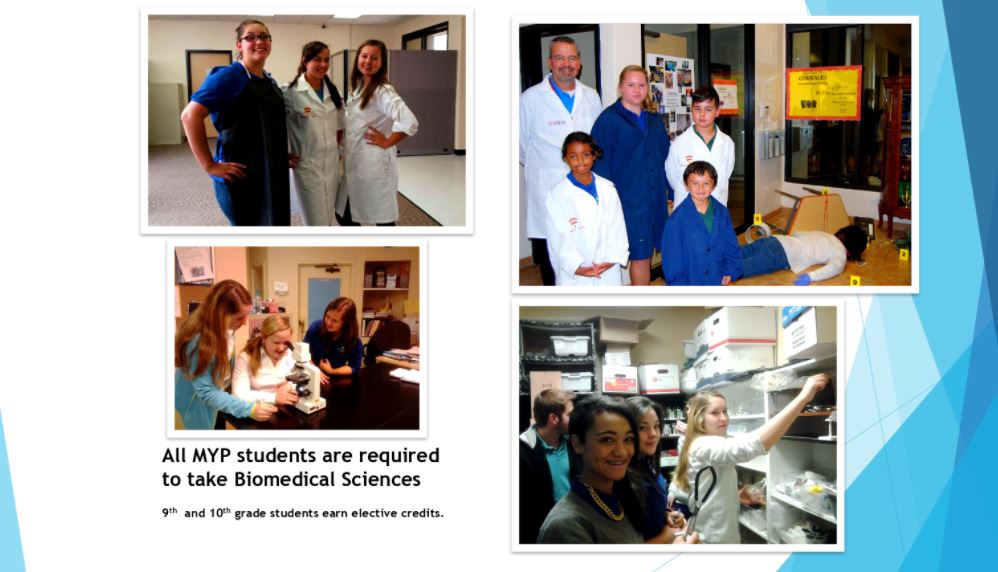 Corrales International School is the first and only school in the state of New Mexico providing a full-continuum of K-12 STEAM (Science, Technology, Engineering, Art, and Mathematics) related education that feeds the pipeline for future innovators and health care professionals. Using PLTW curriculum, Launch K-5, Gateway 6-8, and Biomedical Sciences 9th-12th, CIS students explore a variety of STEAM related activities. Instead of learning math and science as isolated subjects, students are exposed to these principle in a real manner throughout all their classes. Implementing PLTW school- wide has revitalize excitement for STEAM related activities and learning. It has given us the venue to offer training for core instructors.
Teachers are a critical component of the success of the PLTW program. All teachers are required to complete an intensive two-week professional development course during the summer before they can teach the GTT course. Students who continue on the PLTW track in high school also benefit from the organization's strong university and industry relationships that allow students to begin working toward their college degrees and gain valuable experience through internships and local business executives who serve as mentors.

The beauty of PLTW courses is that our kids get to experience how a formula they learned in math applies to a real project. In class, there are no lectures; kids are building, developing and creating. That is the kind of hands-on experience that will engage more students in fields that they might otherwise never consider.

For more information on PLTW, you may also contact Jennifer Cahill at the national office at (317) 669-0871 or jcahill@pltw.org or visit www.pltw.org.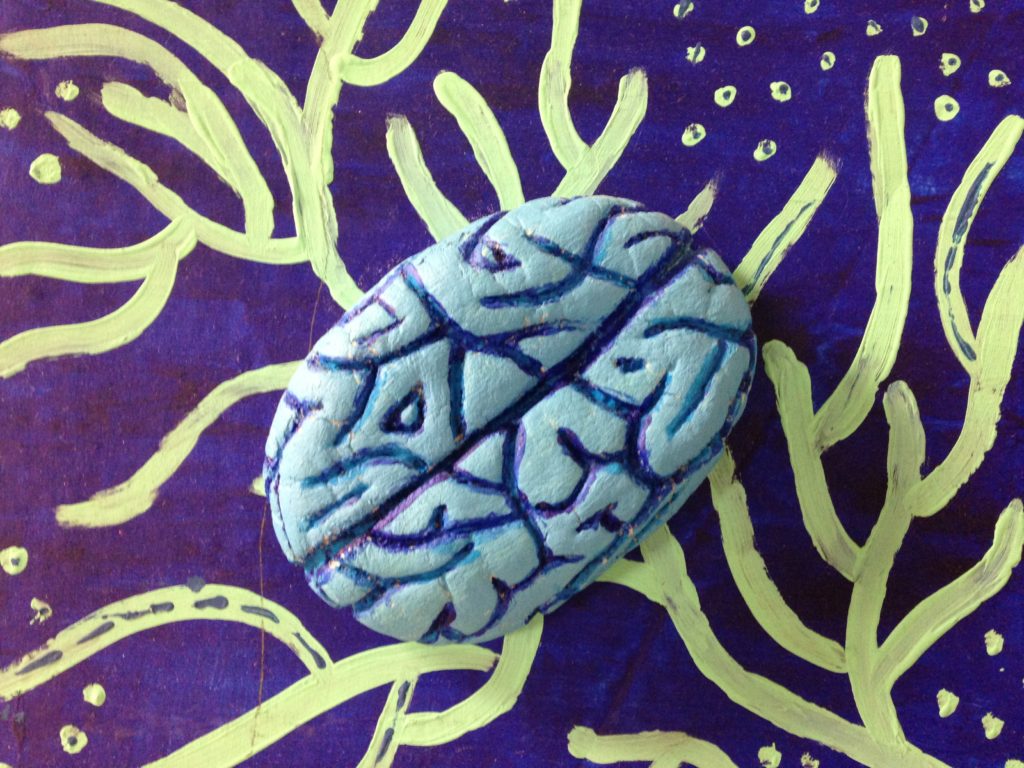 For more information: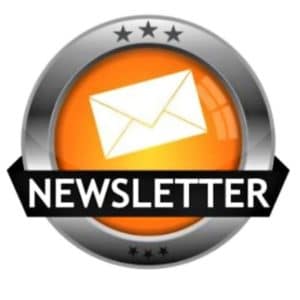 Newsletter
HOS correspondence, school activities, policies, news, updates, events, and community happenings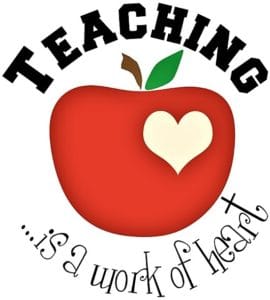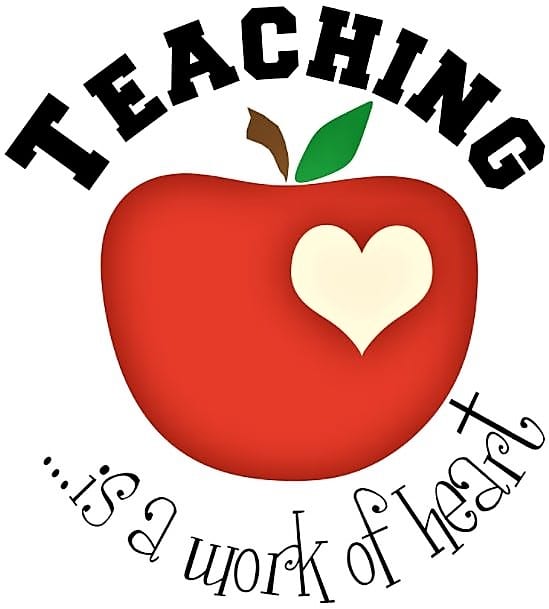 Find Your Teacher
Access your teacher's page, highlighting student work and their classroom community!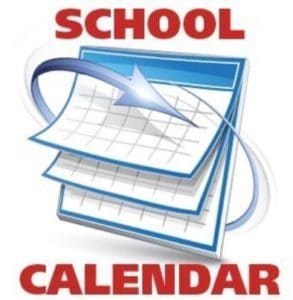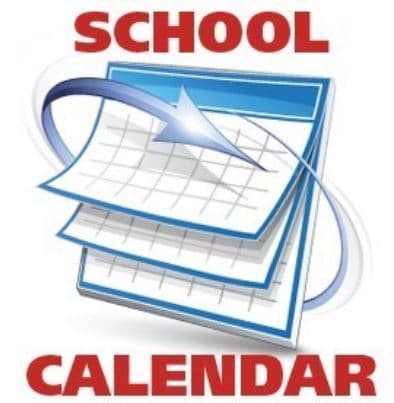 School Calendar
View upcoming holidays, activities, grading periods, and events for 2020-2021